Shobhit University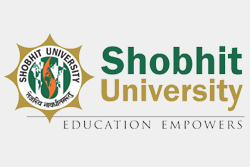 Shobhit University aims to create a conducive, enabling academic climate to facilitate integration of the younger generation into the logic of the present system and to develop educational means by which men and women deal critically and creatively with reality and discover how to participate in the transformation of their world.
Shobhit University, Meerut has been granted Deemed-to-be University status by the Government of India, Ministry of Human Resource Development, Department of Higher Education vide its Notification No. F-9-37/2004-U.3(A) dated November 8, 2006 under section 3 of the University Grants Commission Act 1956.
Under Section 3 of the UGC Act, Deemed-to-be University status is granted by the Central Government to those educational institutions of repute, which fulfill the prescribed standards and comply with various requirements laid down by the UGC.
Shobhit University is a fully government recognized University with the right to confer degrees as per section 3 of the UGC Act 1956.
Shobhit University is approved by Distance Education Council (DEC). Shobhit University is Rated A++, Ranked 9th among Universities established after year 2000 by Financial Express & Ranked 32nd among top 100 Universities, including IITs, by Education Times.
Vision

The Shobhit University will be internationally recognized as a premier Indian University with a global perspective that educates leaders who will fashion a more humane and just world.
Mission

The core mission of the University is to promote learning in Indian tradition with international outlook. The University offers undergraduate, graduate, research scholars and professional students, the knowledge and skills needed to succeed as persons and professional in niche technical areas, and the values and sensitivity necessary to be men and women for others.

The University will distinguish itself as a diverse, socially responsible learning community of high quality scholarship and academic rigor, sustained by Indian ethics & values. The University will draw from the cultural, intellectual and economic resources of the nation to enrich and strengthen its educational programmes.